Hebel to Wentworth and Mildura
by Sandie Downs

In August 2015 Peter Damm, Suzanne Mintel, Jenni and Stan Pearce and Sandie Downs rode their august steeds 1,125 km, along the dirt roads traversing either side of the Darling River on a self-supported bicycle tour. New members, Sean Kelly and Denis Weisz, joined us for the first three days to get a taste of outback bicycle touring. Denis drove a support vehicle for these three days.
The vastness of the New South Wales outback sets this area of Australia apart from other corners of the world with great tracts of red sandy earth merging with endless blue skies. The diversity of features is significant, whether fossicking for opals near Lightning Ridge, boiling the billy around a campfire or just bending the elbow in a country pub, the outback has experiences in abundance. Bicycle touring one of Australia's longest rivers is about the journey and the adventure, experiencing its remoteness and the people who live along its banks, smelling the wildflowers and hearing the different sounds of birds and animals that abound along the meandering roads and waterways. Due to this year's winter rains outback NSW was green with herbaceous plants and wildflowers for as far as we could see – beautiful country for the duration of our three week ride.
Trip preparation
Over many months I decided the route, contacted station owners and supermarkets (only 3 along the way), and enquired with National Parks about the state of the roads and water supply points. I provided each rider with a map and a tour booklet containing the itinerary of which roads we intended to take, towns and campsites where we planned to stay each night, and information on how much food and water we should carry to get us to the next re-supply point. The itinerary was flexible depending on circumstances. At the beginning of the tour we decided, for safety reasons and because of the remoteness of the area, that we would regroup every 10km to enable everyone to catch up, have a short drink break and a chat and to decide where we would have morning tea and lunch. For an emergency I carried a SPOT Gen communications device which has an emergency beacon and a feature to allow the sending of pre-programmed custom messages. I pre-programmed the device with two messages that allowed automatic updates of GPS locations to let people know where we were and that everything was ok. Twice a day, at the press of a button, I sent this message to a small list (10) of mobile phone and email accounts which included my Facebook page. This message feature was able to plot 'my route' to my Facebook page allowing friends and family to follow the progress of the tour.

Arrival at Hebel
We all arrived during the day of Thursday, 20th August 2015 at the Hebel Store and campground, where we stayed overnight in dongas. Suzanne and Peter cycled from Lightning Ridge, Jenni and Stan arrived in a hire van, Sean and Denis visited Denis's opal mine and I was dropped off at the store after a day sightseeing Lightning Ridge and opal mines.
The Store hosts cooked up a great welcome dinner for our 'meet and greet' of cyclists, ready to start the tour the next day.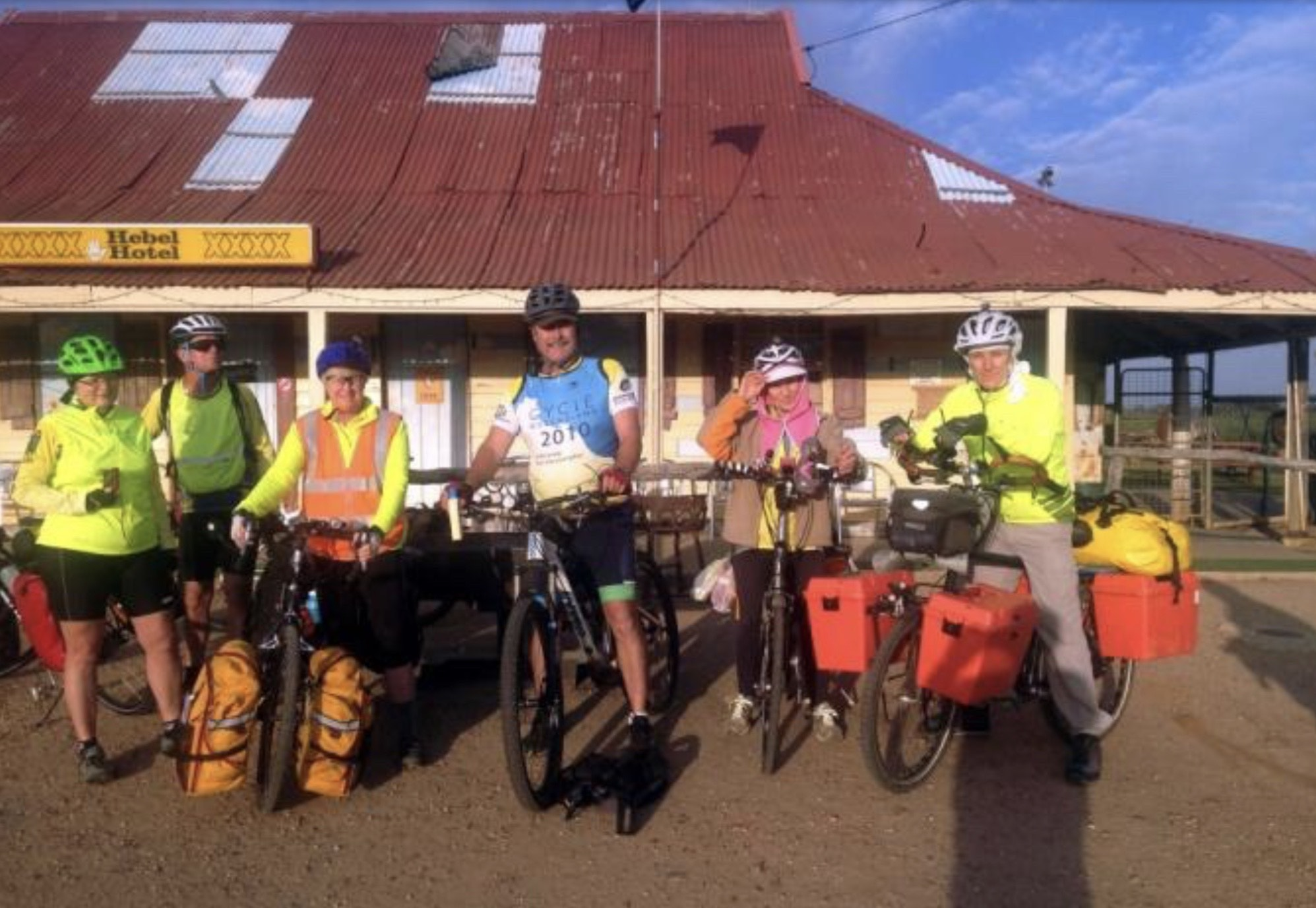 Week 1 – Hebel to Louth (Friday, 21 August to Thursday, 27 August)
Friday 21st August had us an early start at 8:00 am as there was only one kilometre of bitumen then gravel road, until we reached Brewarrina in 2 days, some 130 km away.

The freshly graded gravel dirt road was heavy going in the soft earth with our heavily-laden bikes and we had to cycle from side to side to keep a firm path along the outside of the graded strips. It was a hot day but a light tail wind from the north east helped immensely. We stopped for lunch at the 41km mark at Goodooga after which we had smoother gravel road until we arrived at our first camp for the trip. Denis found a deserted shearing station 'Willawillingbah' (2km off the road) which had a full water tank. We camped in the grass and prickles and Sean cooked a camp oven dinner for everyone.

Next day, more gravel road but with light tail winds still prevailing we made good time for the 86km cycle to Brewarrina. We camped in town at the caravan park and the courtesy bus took us to dinner at the Services club.
Sunday morning we viewed the 40,000 year old fish traps, an arrangement of roughly shaped circular stone walls situated in the river, and the storyboard, comprising traditional Aboriginal murals and written stories transcribed onto a low-lying concrete wall, above the Barwon River's south bank. The strong NE/NW tail winds, up to 25 km/h, together with 72 km of sealed highway provided a great ride and helped us arrive in plenty of time for our pre-arranged `high tea' on top of Mt Oxley at 3.00pm. Our overnight stay – the shearing quarters at the base of Mt Oxley and 8 km in from the highway on gravel road, was arranged with Bill and Denise Stalley, owners of Rossmore Station. We arrived at our destination and quickly put up tents and got ready for our 'high tea'. Denis and Sean drove the seven of us, via the Telstra Tower Road, to the top of Mt Oxley where our hosts, Bill and Denise, had our High Tea waiting. What a feast! Warm scones with jam and cream; smoked salmon and cucumber sandwiches; tasty hot savouries and a selection of home-made cakes topped off with champagne, tea and coffee. No need to dinner after this. Sturt and Hume climbed Mt Oxley on their 1829 expedition and the top is potted with a number of small craters. The views of the plains below are quite spectacular. Around 5:30pm heavy black storm clouds rolled in and the lightning display was stunning. We made a quick exit back down the mountain. The lightning, strong winds and rain caused us to abandon tents and sleep in the shearing quarters' kitchen.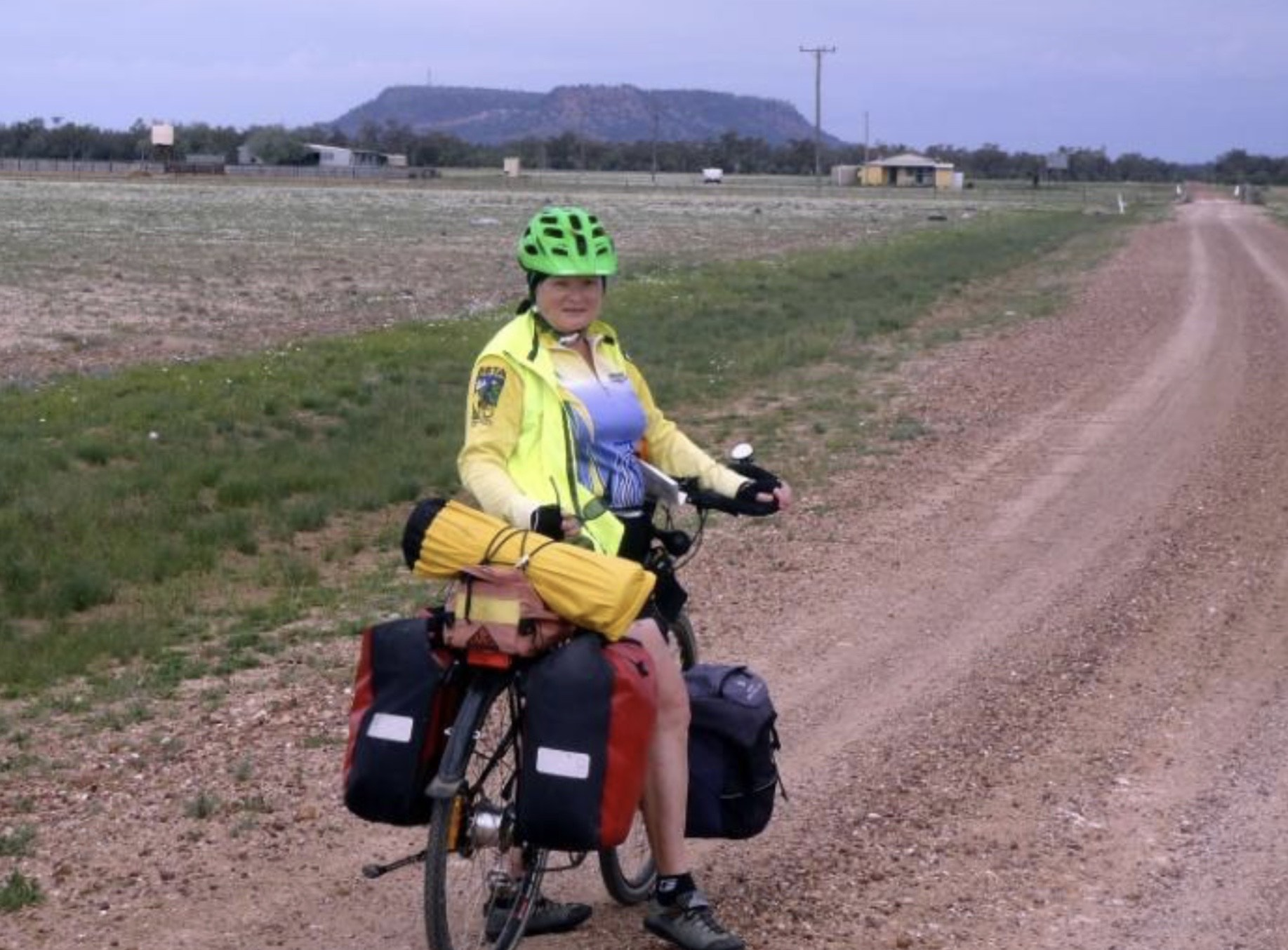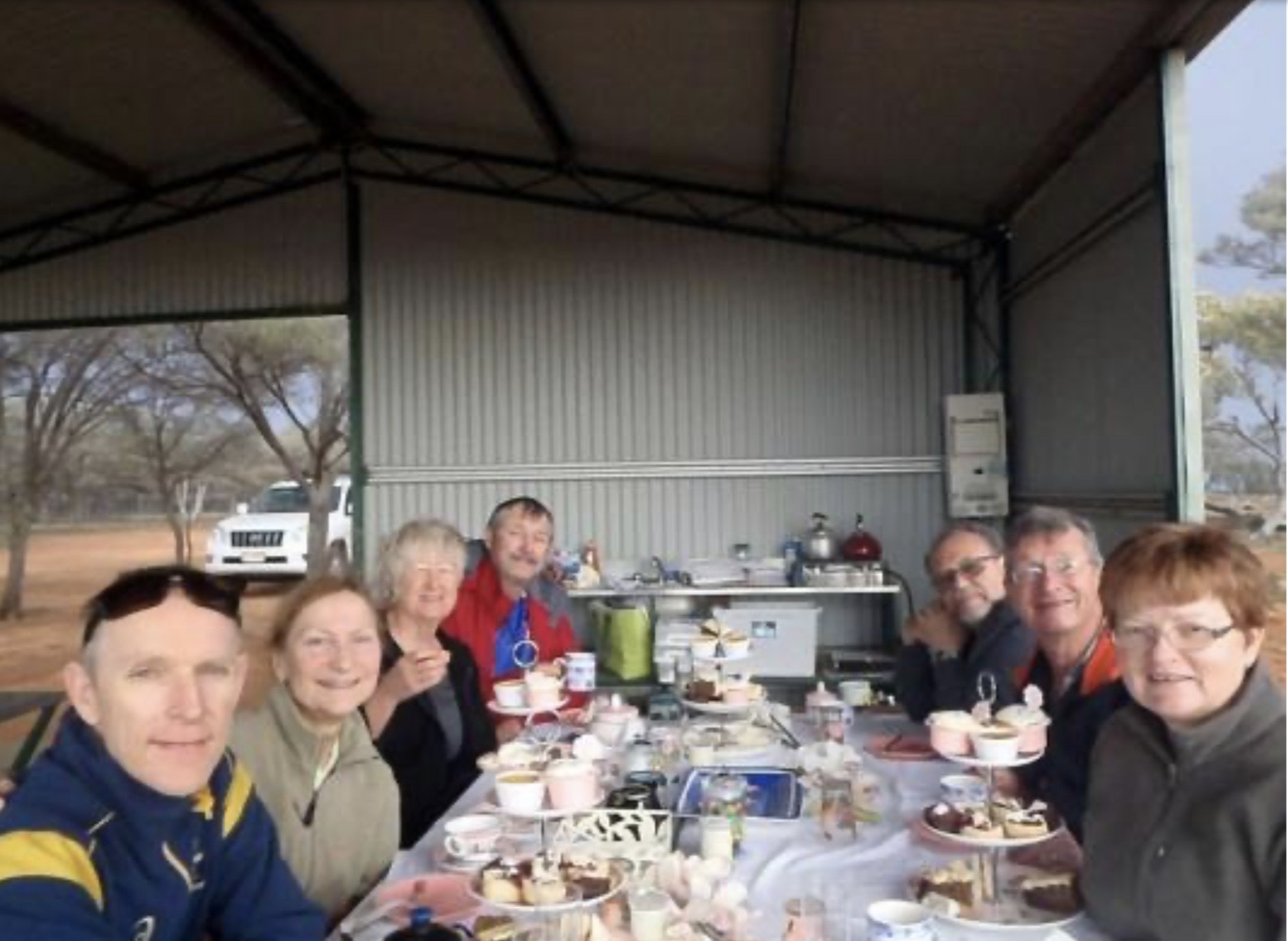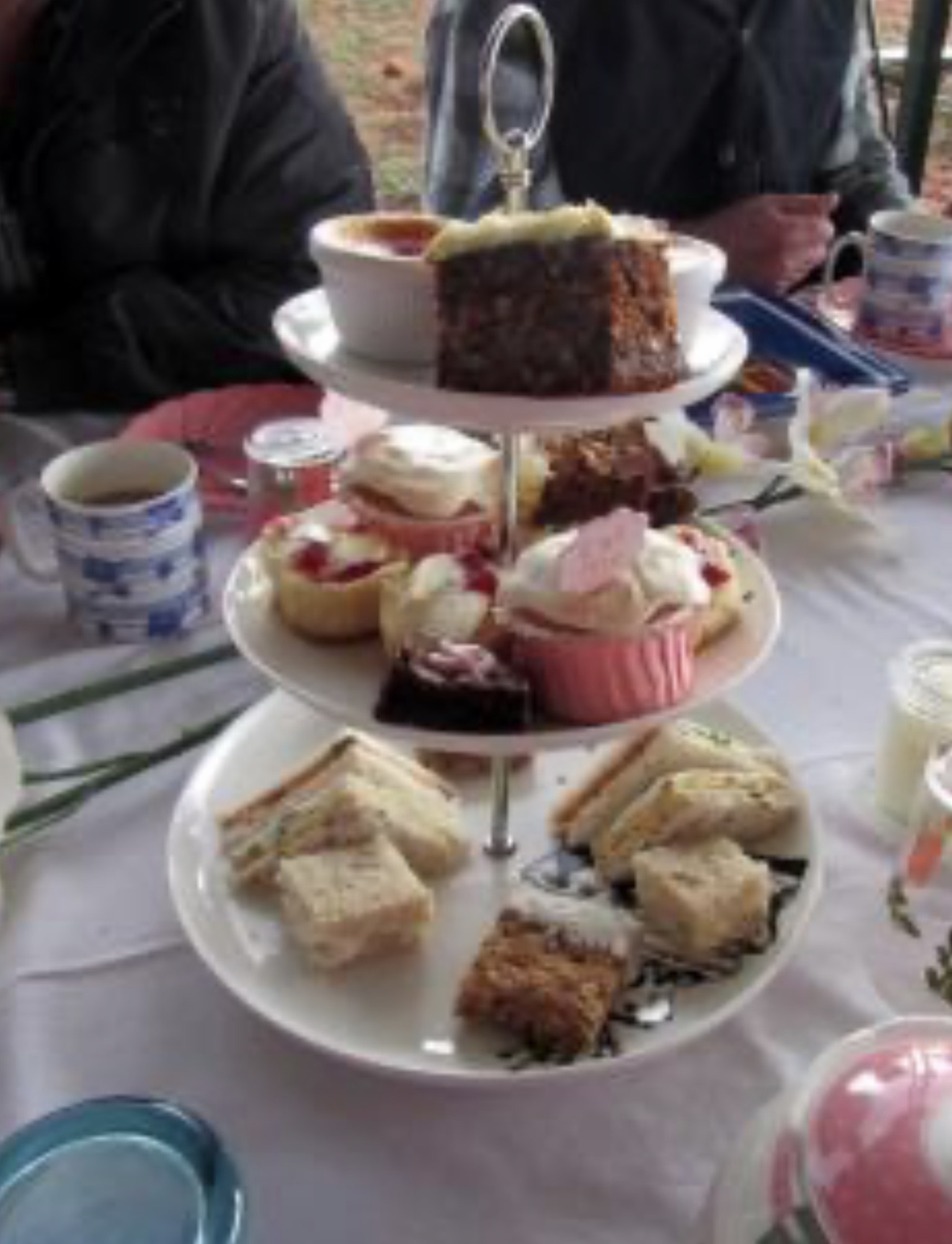 On Monday we said goodbye to Denis and Sean. They made it out on a very wet muddy road in their 4WD with camper in tow, but it was a different story with our bikes. The black mud clung to the wheels, clogged up the forks and jammed up the works making pushing the bikes let alone cycling impossible. 2kms and 2 hours later we phoned Bill, who came out in his 1940's 4WD Willys Jeep. He secured the bikes with fencing wire and drove us, 2 bikes at a time over three trips, to his homestead beside the highway for a wash-down.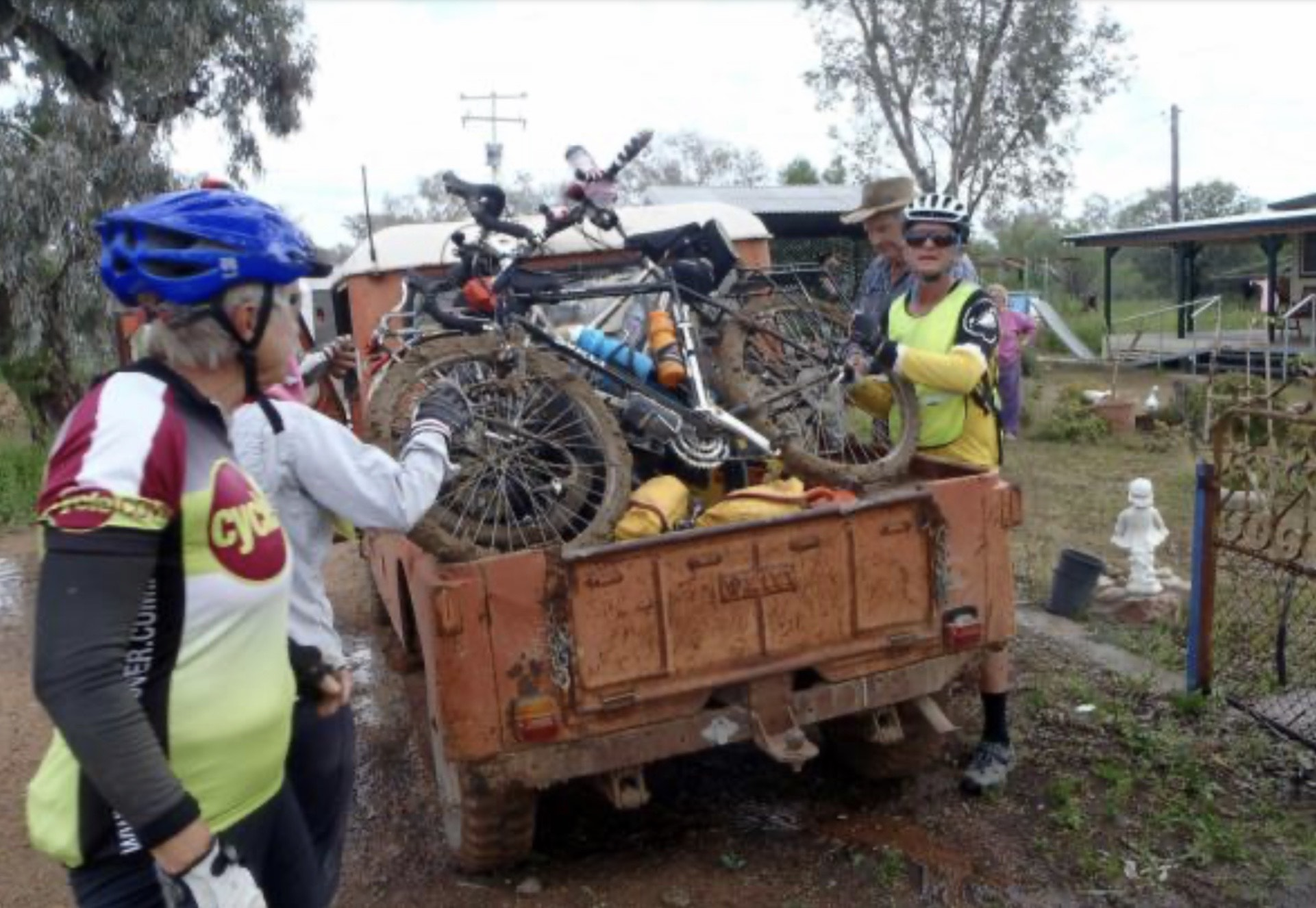 Denise provided morning tea which helped with the morning's set back. We then had 38km with a 20km/h strong head wind to make Bourke and a further 7km to Kidman's camp at North Bourke, adjacent to the Darling River. On the way we stocked up at the local SPAR supermarket and arranged a box of food to be delivered to Idalia Station, via the mail run, to await our arrival in 4 days. We also emailed Nelia Gaari Station to place a food order to await our arrival in 9 days.
Kidman's camp was a great place to stay for our 'lay day' – we needed it. A ride on the paddle steamer `The Jandra' along the Darling River, and visits to an art gallery and the Information Centre which includes `The Back O' Bourke Exhibition Centre'. Unfortunately, 'Dinner with Poetry' was cancelled so we caught the Courtesy Bus to the 'Diggers' Club for dinner for both nights.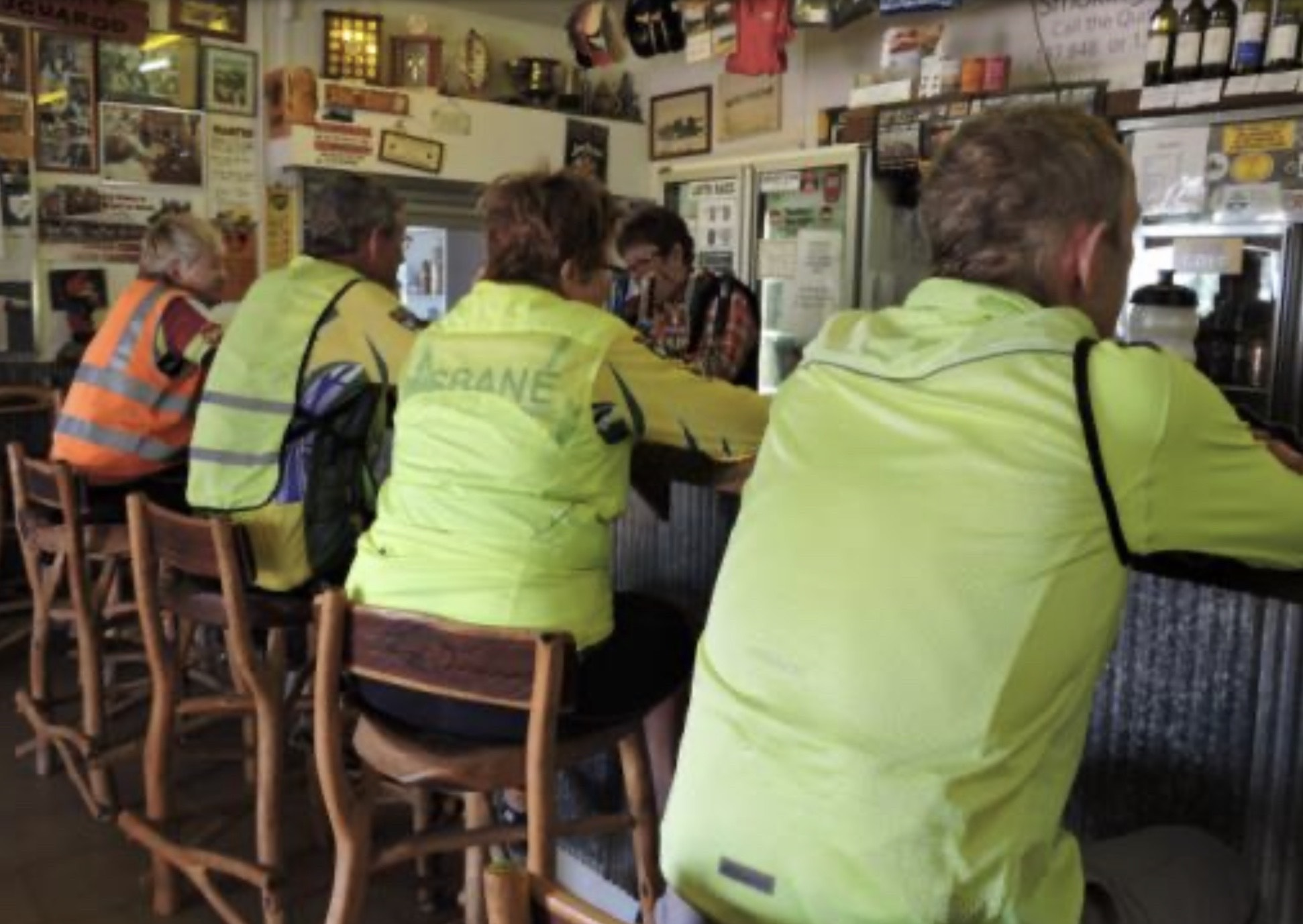 We cycled around Bourke, enjoying the warm clear day and looking over the sights including "The Port O' Bourke", the old Bourke wharves, the Old Crossley Engine and the North Bourke Bridge, which was the first bridge built over the Darling in 1883.
On leaving Bourke on Wednesday, we crossed the Darling River and visited Fred Hollows' grave before cycling along the east side of the Darling River for some 50km to Yanda camp ground in the Gundabooka National Park. We traversed soft sandy stretches, some quite rocky stretches, and another roughish 5 km to camp ground. The picnic bench tables under shelter with a cement floor were great for meals and only a short walk to the Darling River nearby where Suzanne spotted three echidnas near an anthill.
The next day we headed for Louth along the west side of the Darling River. Similar road conditions – sandy stretches, some quite rocky stretches and some smooth gravel. Overnight was at the Shindy's Inn camp site, beside the Darling River with a sparsely grassed lawn, but good hot showers and toilets. That evening we walked to view the 7m high polished granite cross in the graveyard which displays a `fiery glow' at sunset. Dinner was a pub meal at the Inn.

Week 2 – Louth to Nelia Gaari Station (Friday, 28 August to Thursday, 3 September)
We cycled from Louth still on the west side of the Darling River to Idalia Station, being some 143km downstream from Bourke. Enroute we stopped in at Trilby Station for a pre-arranged morning tea (warm scones, jam and cream and homemade cakes etc) and a tour of the working sheep property with its newly built, very modern shearing shed with polished wooden floors – something to behold! They run 25,000 Merino sheep and can date their family back six generations to 1860.
Unfortunately, we had to move on from this great station and head for Idalia to collect our box of food for tonight's dinner. Idalia has nicely grassed campsites, with an in-ground fire pit which we all sat around eating dinner and sipping a wine or two.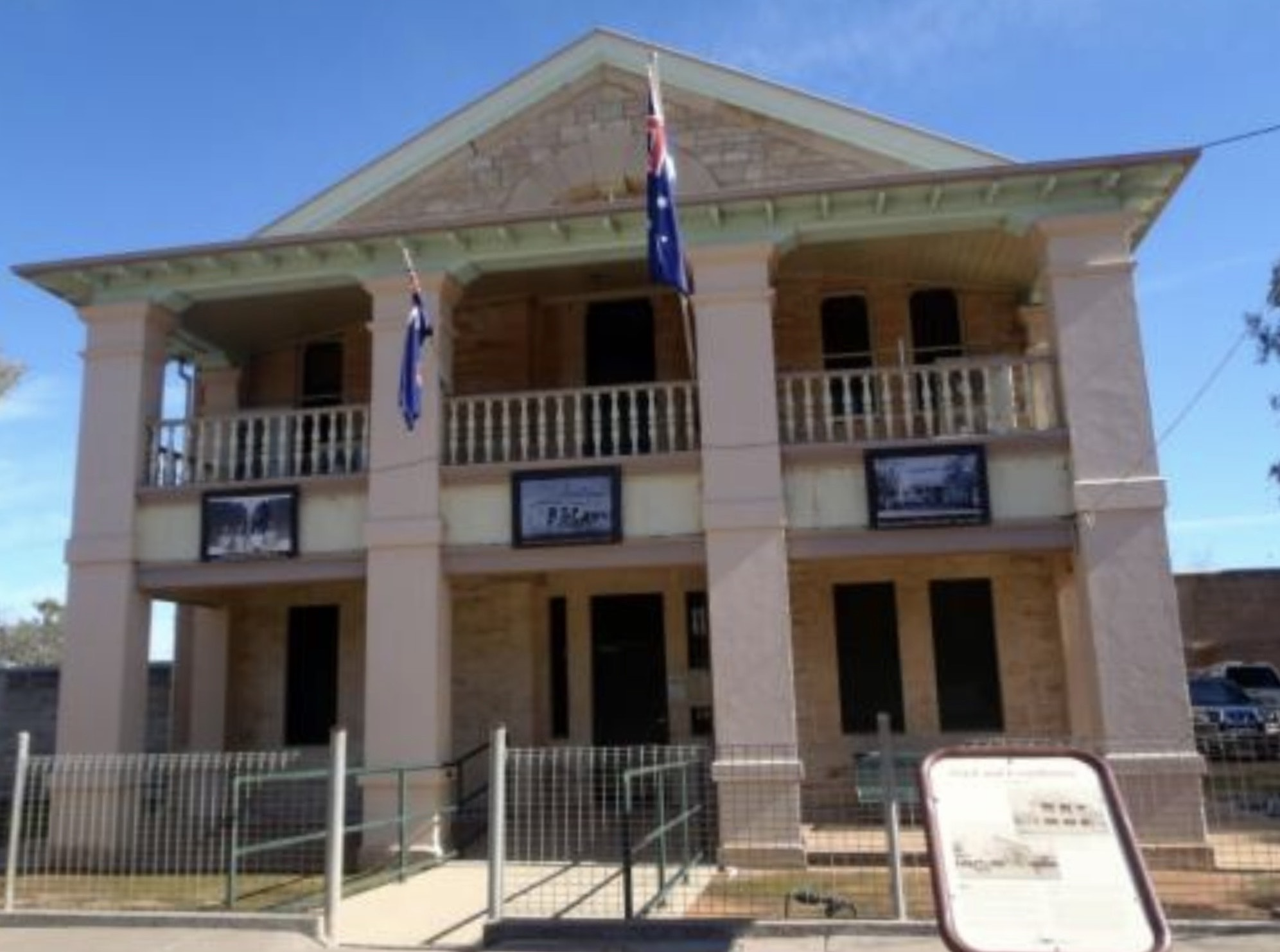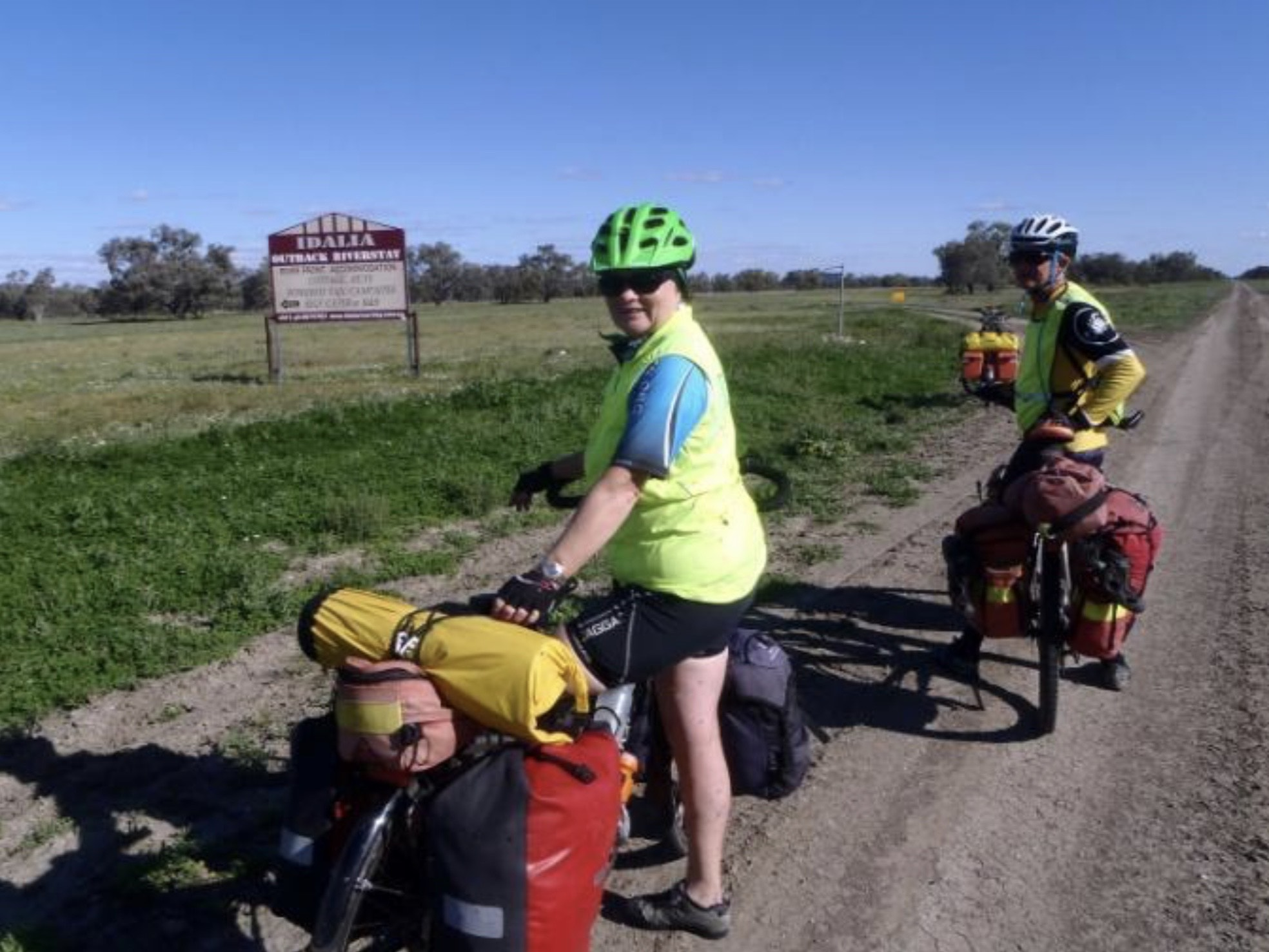 The night was cold, around 3-4 degrees, but days still warm and sunny and headwinds from the SSE and SW are creeping in.
Visiting historic pastoral stations enroute provides an appreciation of life and challenges which faced those living in the bush. Today, stations and rural properties in the Outback are opening their gates to guests and campers and 'Station-stays' are a great way to travel the 'classic' Outback tracks.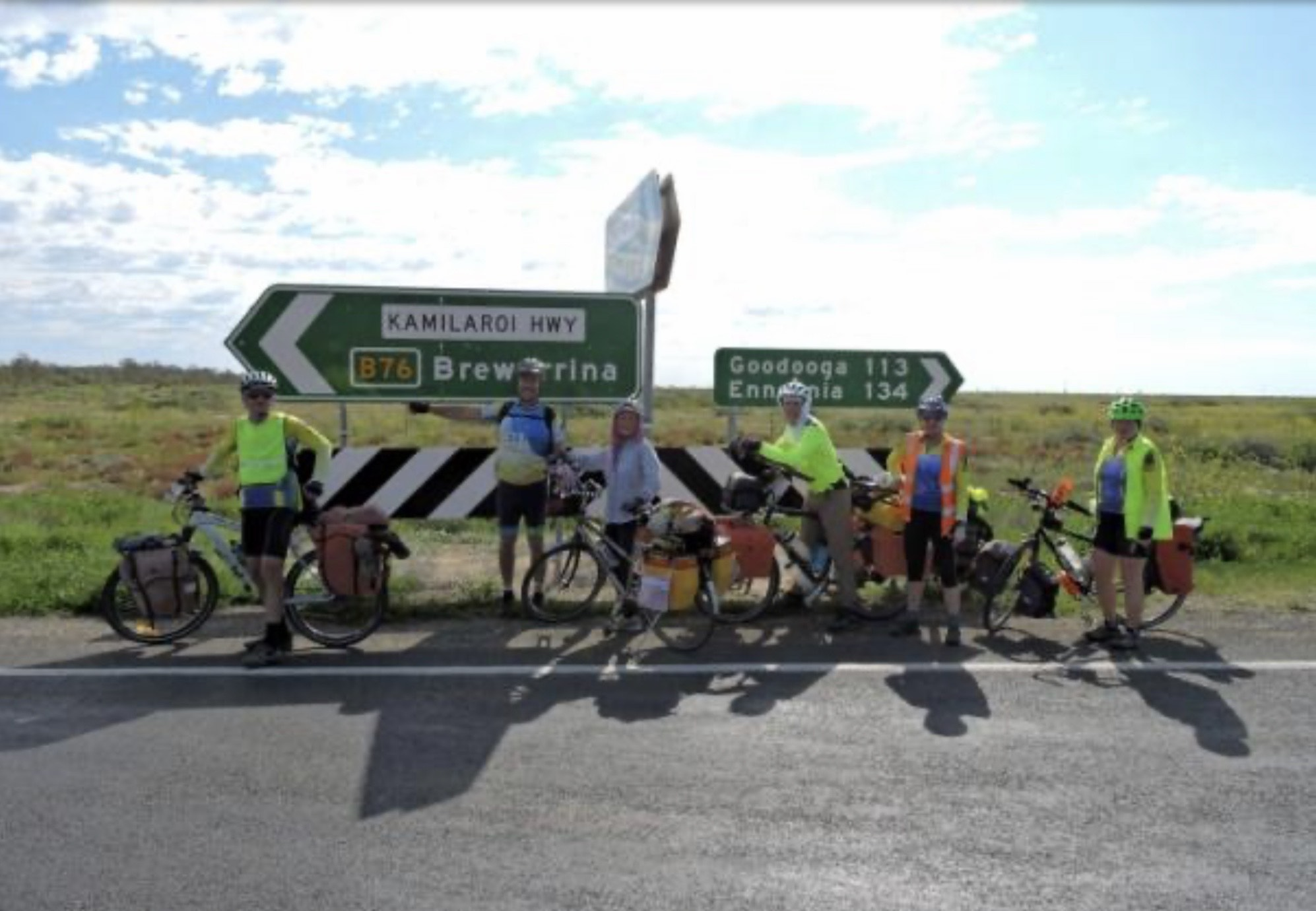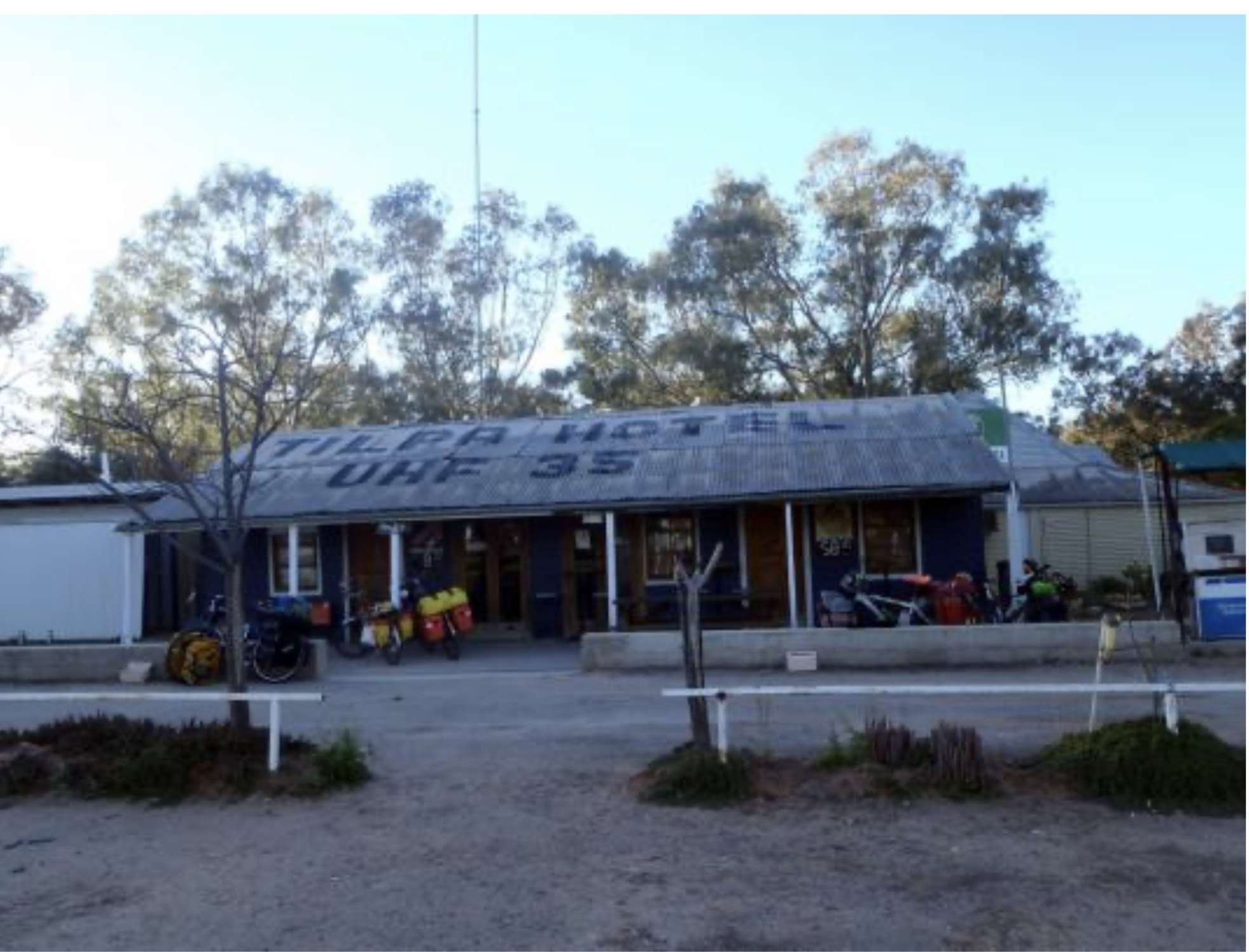 We continued on, heading to Tilpa (village on the Flood Plain – population 0) about 47km away, stopping for lunch at the century-old Royal Hotel. We intended to travel further that day along the east side of the river to a National Park's Flora and Fauna Refuge camping area, but due to previous wet conditions the east road was closed. We checked with Road Information and the locals, who gave somewhat differing road reports, but we know that wet conditions make a black dirt road surface impassable. Instead of going on, we camped on a river embankment (no facilities) at Tilpa and had our showers at the Hotel for a gold coin donation. We decided to have our dinner at the Royal Hotel as well.

West bank from Tilpa to Wilcannia – 136 km
Taking the locals' advice that `west is best', we cycled along the west side of the Darling River to bush camp at 67km. The road surface consisted of soft sandy patches, red gravel, and hardened black dirt clay pan, which was like riding on corrugations. We bush camped behind a small hill and trees where we had dinner by an open fire, with a nearby water puddle to extinguish it. The night was cold about 2 degrees and we were still pushing into head winds, strong at times.
Monday found us at Wilcannia where we camped at `Warrawong on the Darling', along the Barrier Highway on the east side of town, about 3 km past Wilcannia's town bridge. A lovely grassed camping ground, situated on the banks of a billabong that joins the Darling River. On the way we stopped at Miss Barrett's coffee shop for a late lunch and stocked up at the local IGA supermarket.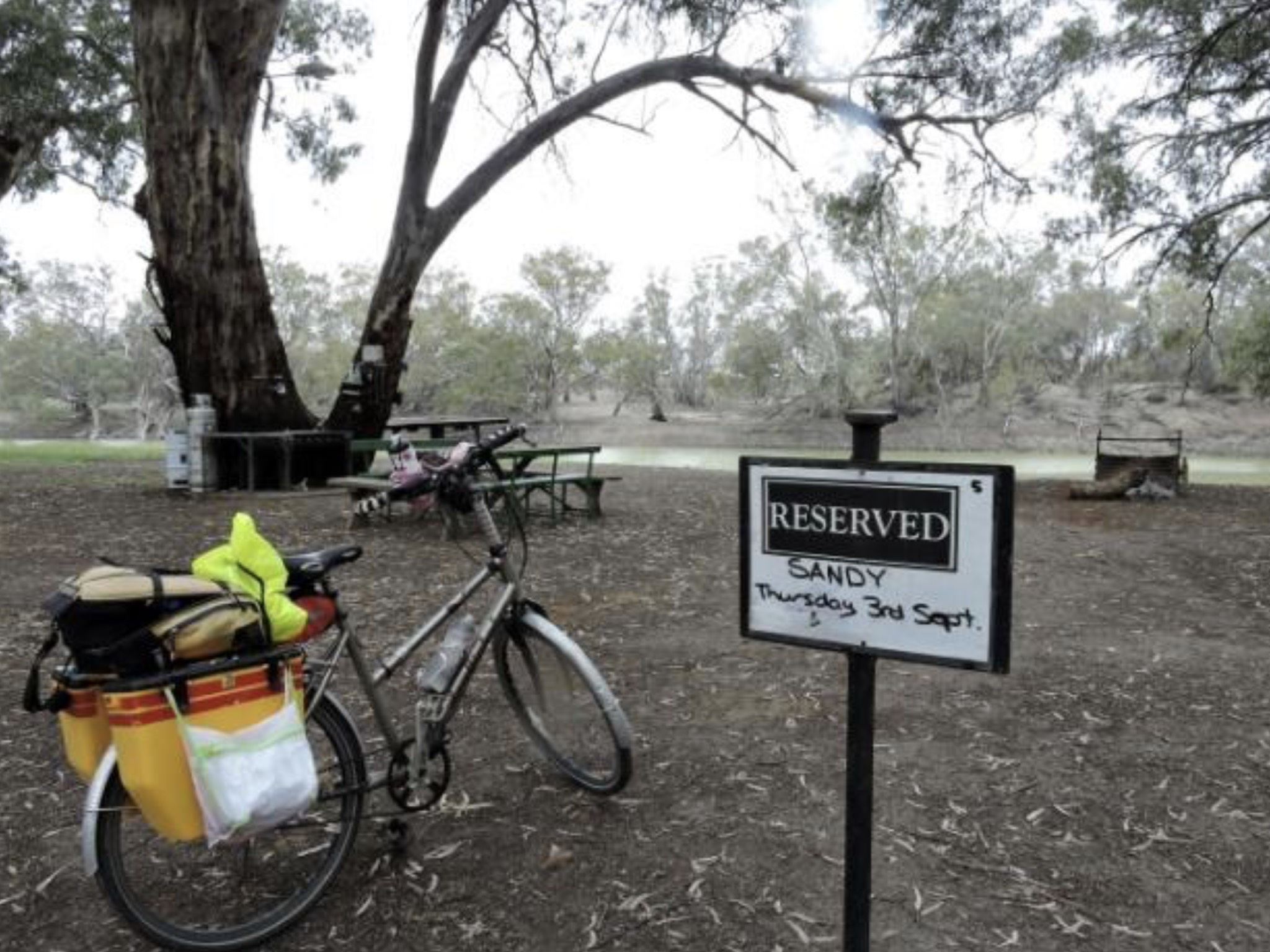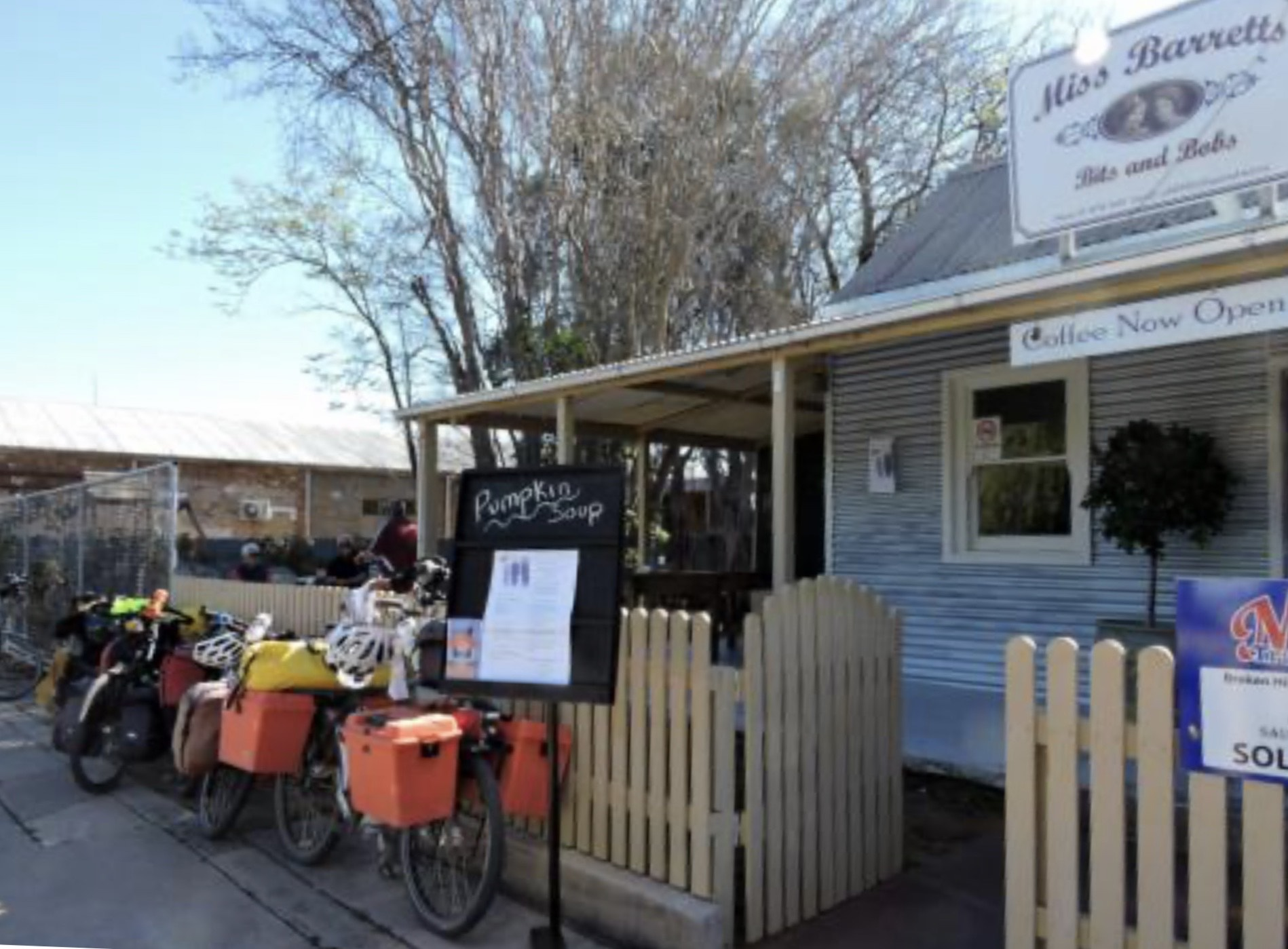 Warrawong has good facilities including a new ablutions' block, camp kitchen and
communal fire pit to enjoy happy hour each afternoon with other travellers. Jim and Linda are the perfect hosts. For $5 they provided pre-dinner nibbles and a lamb curry around the fire with music played by a travelling musician. Although we'd planned a lay day in Wilcannia, a predicted weather change had us moving on towards Nelia Gaari station some 90 km away. Concerned that we could be stranded for three days or more we continued on to get as far south as we could.
A late start on Tuesday saw us set off, after morning tea at Miss Barrett's, to another bush camp with extra water onboard. After 63km of gravel road and light tail winds we called it a day and camped, not far off the roadside. The clumps of blue bushes next to our tents were a haven for lots of small birds like field wrens. We settled in for our dinner by the open fire with the beautiful Milky Way above.
We awoke on Wednesday morning to winds that had changed to the NNE. The heavy, dark clouds to the south alerted us that the weather front was coming in faster than expected and the brisk 30km/h tail winds had us covering the 28 km to Nelia Gaari in no time. At the turn-off to the station heavy droplets began to fall. We cycled the few kilometres in to the station, only to arrive and find a sign saying 'out mustering and tagging lambs – make yourselves at home'. The rain started and we took shelter under the covered courtyard of the guest accommodation, hoping that we might be able to stay here for our lay day rather than camp but it wasn't to be.
We were setting up camp along the river, about 1 km from the homestead, when it started to rain again and Greg and Lily turned up in their truck. As the sheep crutching was finished they invited us to stay in the workers cottage which we accepted. All the workers had quickly left to beat the weather front as roads become impassable and turn into slippery, sticky muck.
Our box of food had arrived from Menindee supermarket as pre-arranged with Lilly, so we had plenty of food and snacks for our lay day. The Workers cottage was comfortable with 2 bedrooms, kitchen and dining area with my bed in the corner. Lots of rain over night and strong southerly 33-45km/h winds the next day.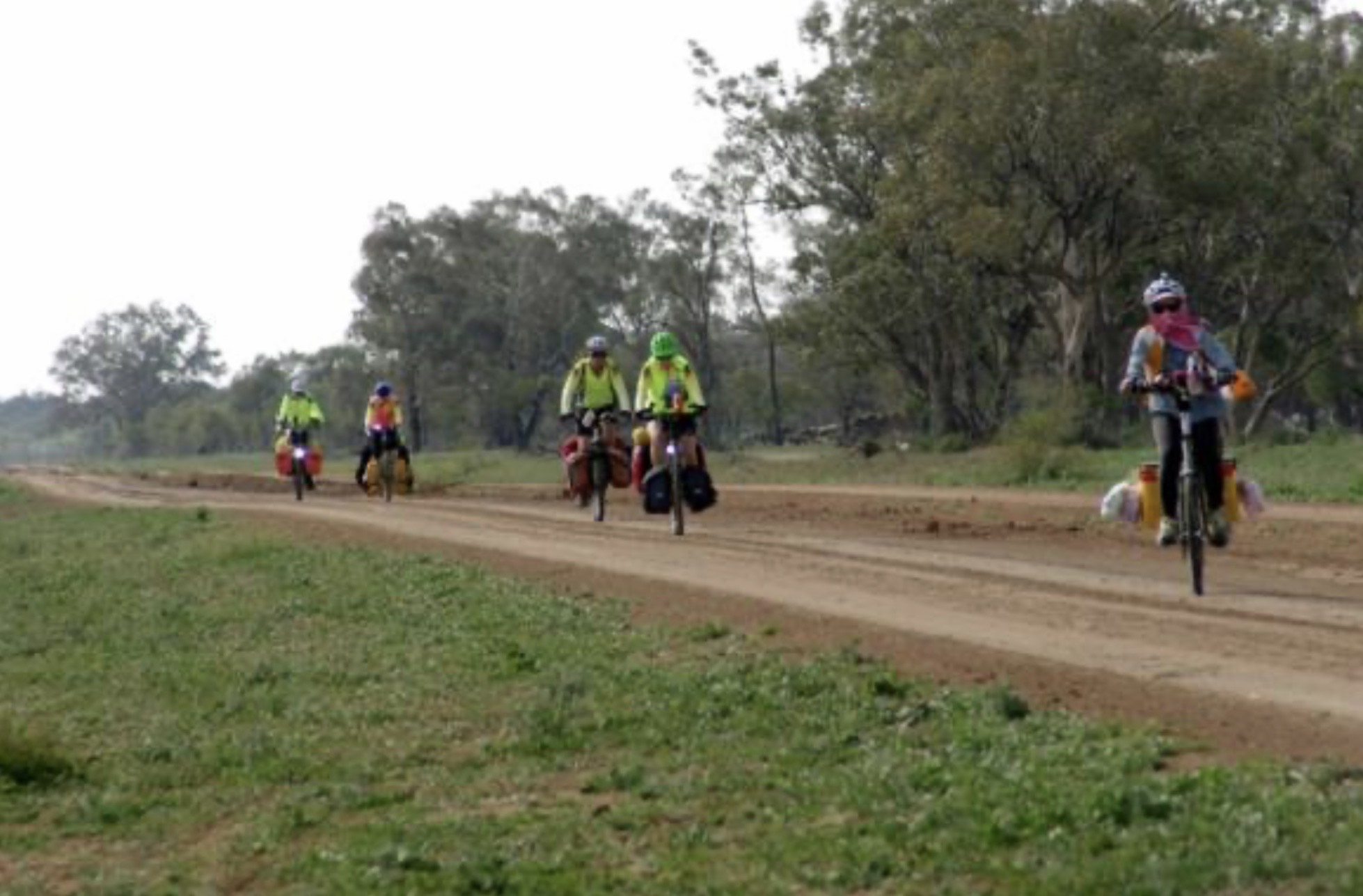 Week 3 – Nelia Gaari Station to Mildura (Friday, 4th September to Friday, 11 September)
After our lazy day off we set off towards Menindee about 80 km away, including 60 km
unsealed road. Our destination was Copi Hollow Caravan Park, beside an artificial lake
and home of the Broken Hill Speedboat Club, about 17 km north of Menindee. Dinner of fish and chips was ordered at the caravan park store and delivered to our tents by manager Wayne, on his four wheel quad bike. We had our dinner around the fire place next to the lake with pelicans and ducks for company – a great camping spot, well grassed.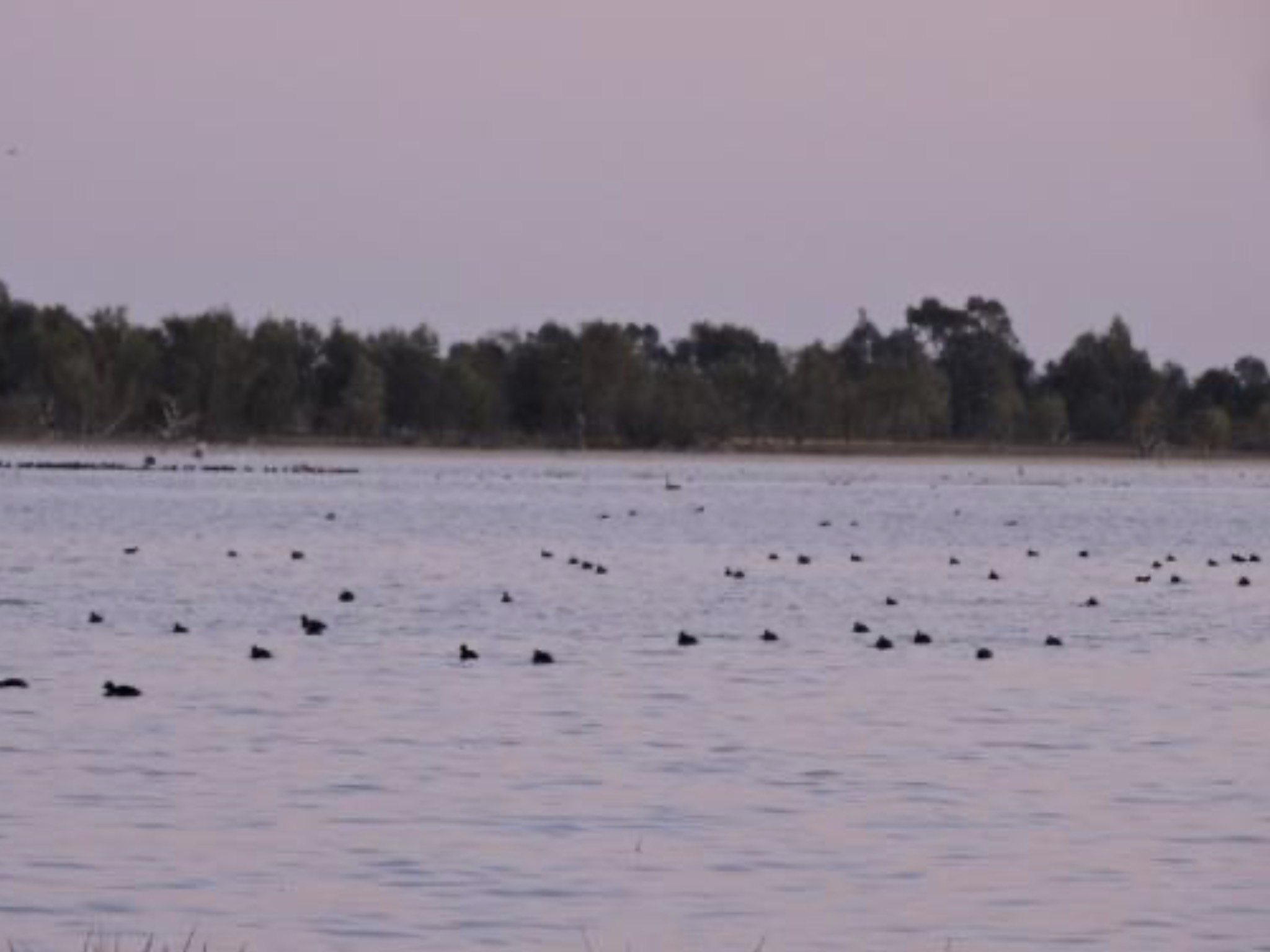 On Saturday we left Copi Hollow Caravan Park to cycle the 17 km to Menindee for the remainder of our supposed lay day. On the way, we stopped to view the Menindee Lakes water storage – it was disheartening to see all the lakes totally dry and everything a dead- looking dirty brown colour.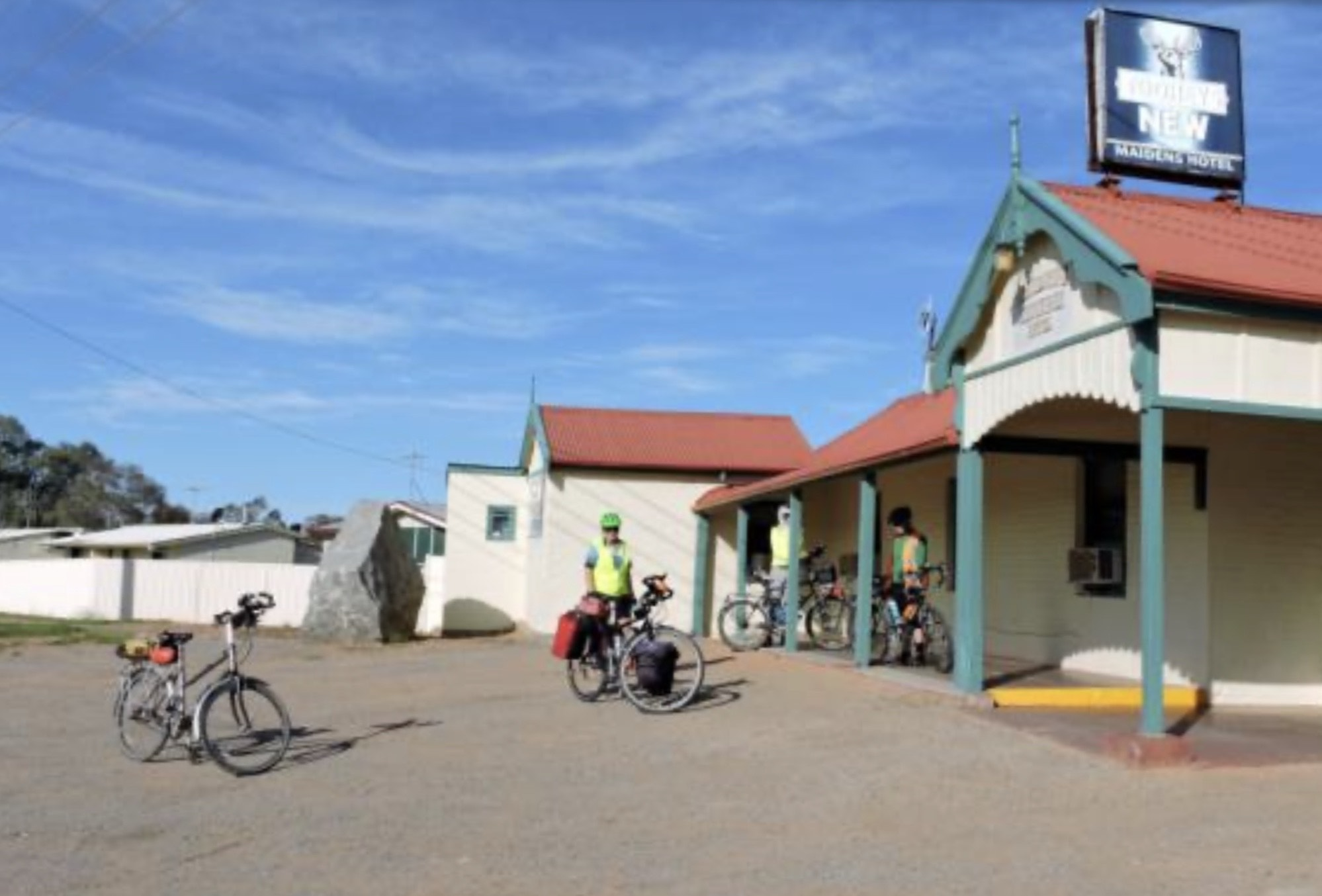 At Menindee we stocked up at the IGA and in the afternoon cycled the historic trail, as our prior arrangement for a small bus to Kinchega Woolshed was cancelled due to no driver being available. We stayed at the Maidens Hotel, famous for the Burke and Wills expedition camping there in 1860. We looked over the history of photos along the walls: mixed stone and wood and iron buildings; opened in 1853; rebuilt in 1854; known as Tom Pains Pub; burnt down in 1999; rebuilt in 2000. A restful afternoon after our 20km cycle from Copi Hollow and we gathered for dinner by the fire in the Maidens.
Sunday saw us cycle about 50 km on the east side of the Darling River to Tolarno Station. We stopped to watch wild goats being loaded on to a four deck B-Double road train destined for the Halal market via the Brooklyn abattoir in Victoria. Wild goats have long been derided as a scourge to the environment and a pest to pastoralists. This view is radically changing. In recent years, wild goats have been the salvation of farmers struggling with outback conditions. This load of some 900 goats, the fourth that week, is worth about $50,000 to the farmer.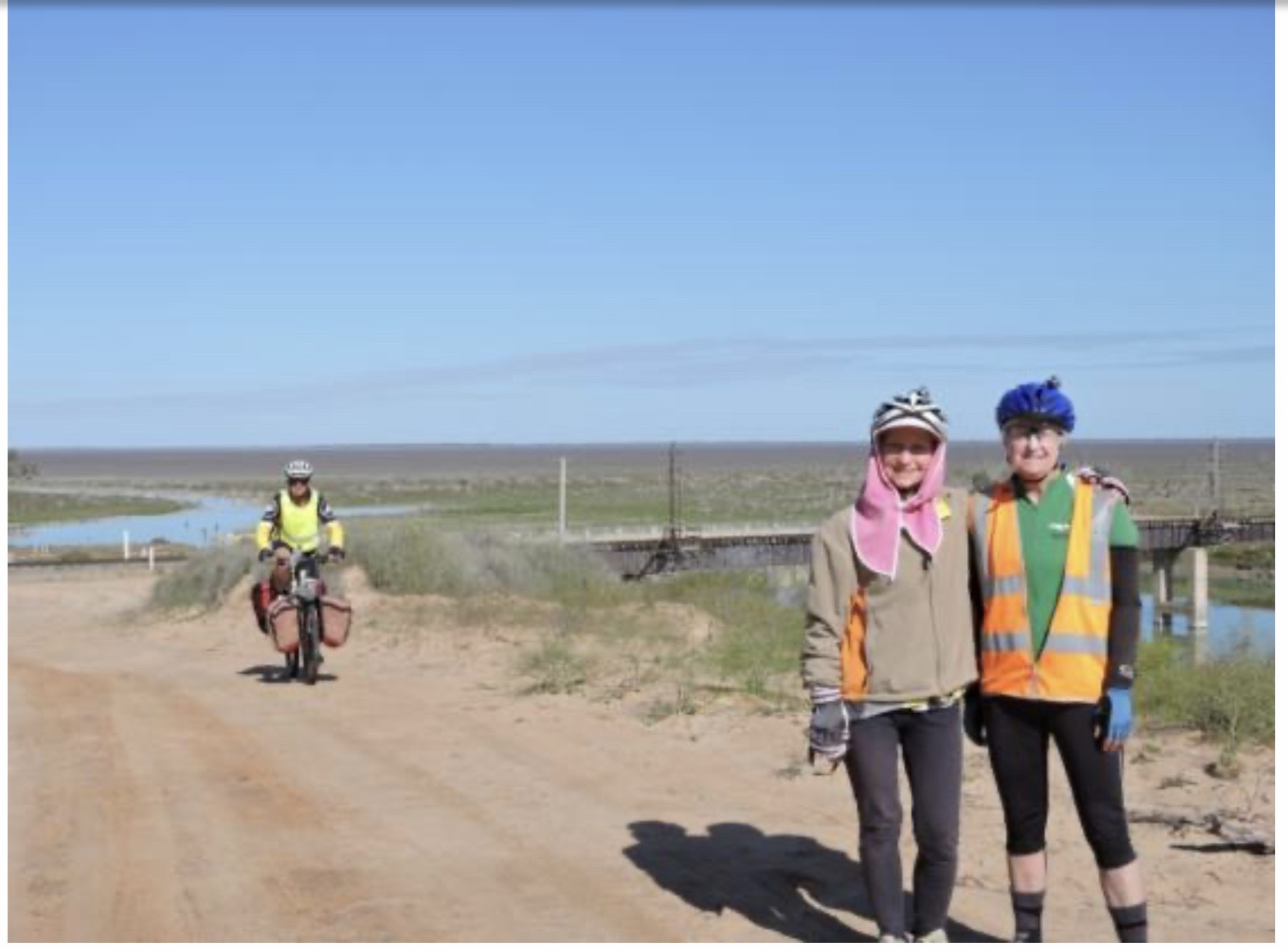 Arriving at Tolarno, we were directed a further kilometre or so to the shearing quarters where a small area of grass was set aside for tents. There was a large shearer's kitchen, as well as hot showers and toilets. We had a tour of the historic homestead, out buildings and old working shearing shed. The Station has passed its greatness, looking somewhat neglected, but is still a working sheep station.
It was a further 78 km from Tolarno to Pooncarie. 58 km of the road was rough with loose red sand interspersed with an unexpected 20km stretch of newly sealed bitumen. We stayed at the Telegraph Hotel/Motel and looked forward to our lay day on Tuesday to visit Mungo National Park. Harry Nanya tours arrived to pick us up as arranged for a guided tour of this World Heritage Area. We had a wonderful tour of Willandra lakes and Walls of China, topped off with a great lunch of fresh salads provided by our tour operator/guide, Graham Clark, a traditional Paakantyi Aboriginal. His in-depth knowledge of the area made this tour one of the highlights of our trip.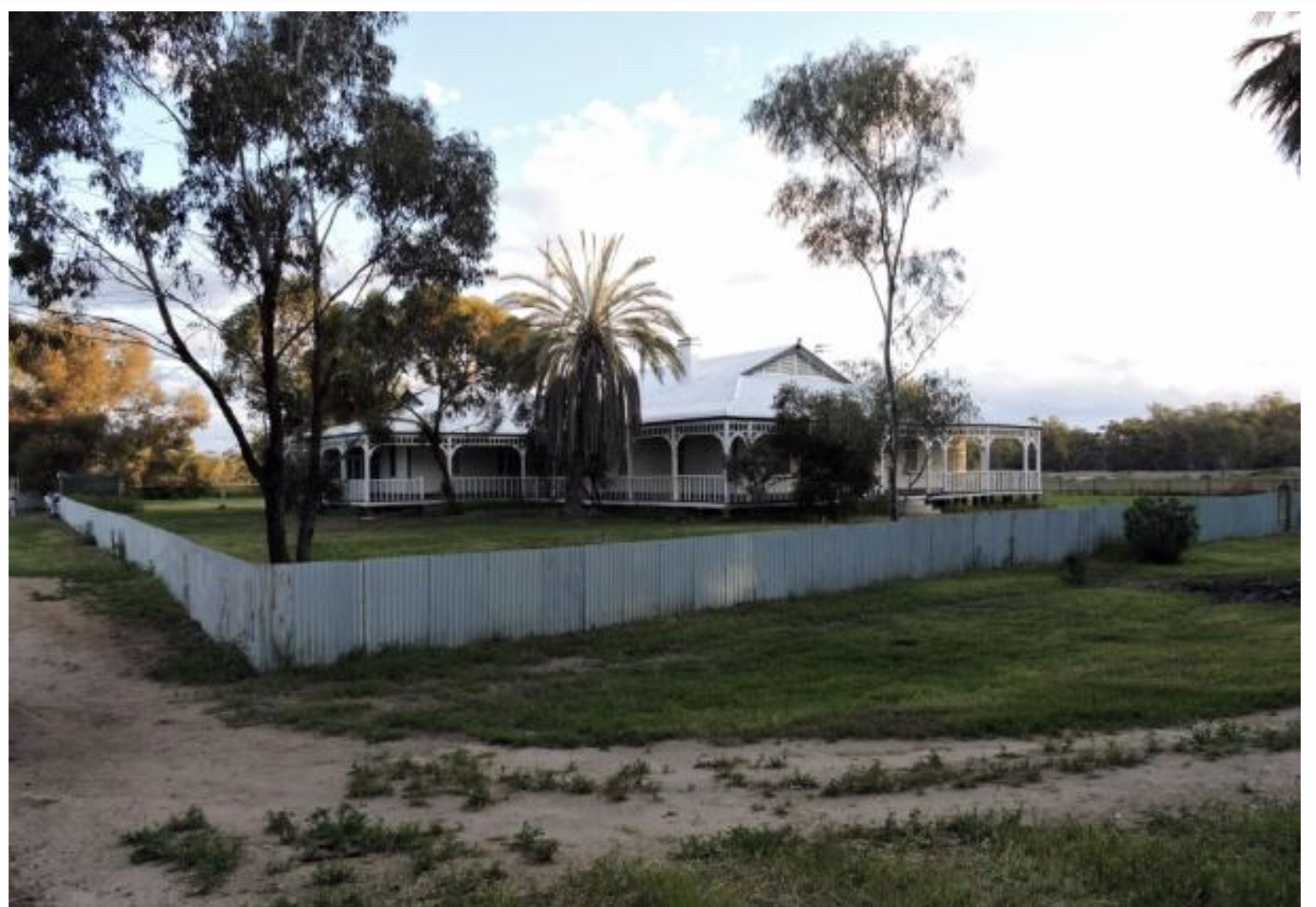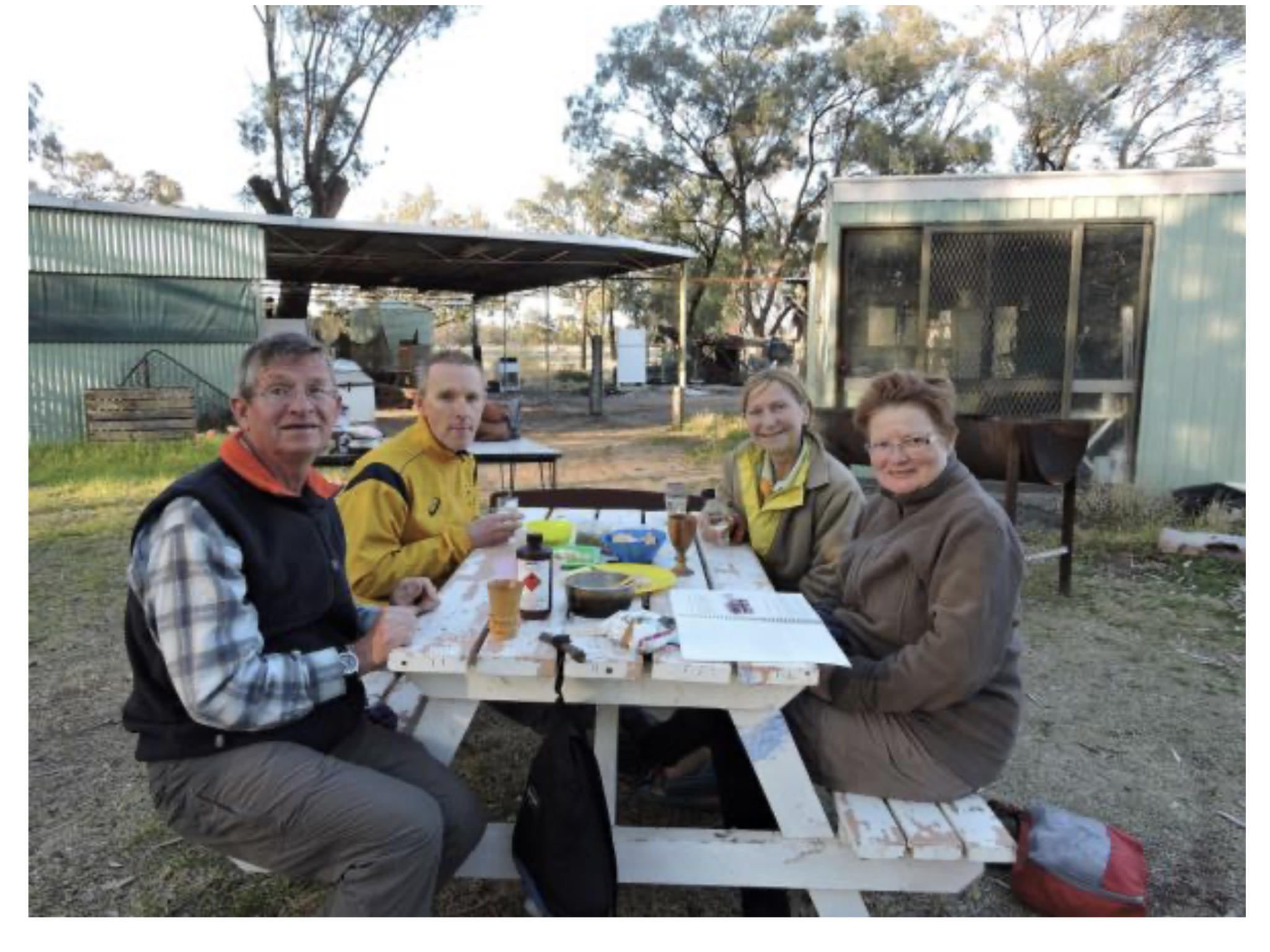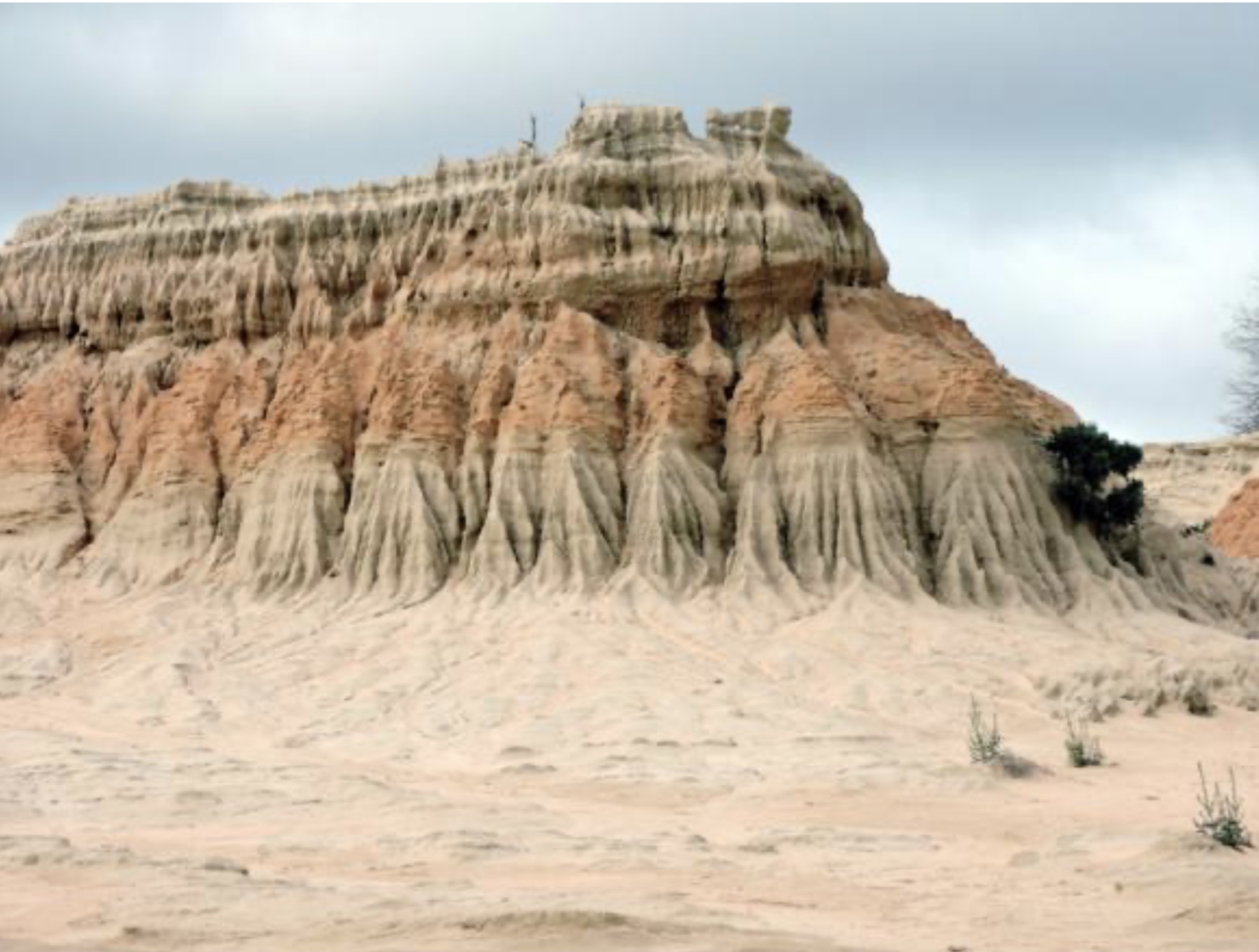 After our wonderful day off, the end of the tour was closing in and we cycled the last roads towards Wentworth. After 68 km sealed and 5 km dirt road we found this small station called Balcatherine, Mail Box 4705, where we stayed at a unique campsite called Rustic Bend. The sheep property owners were a lovely elderly couple who brought us 20 litres of drinking water from their tanks at the homestead. We had our last camp fire and dinner beside the Darling River.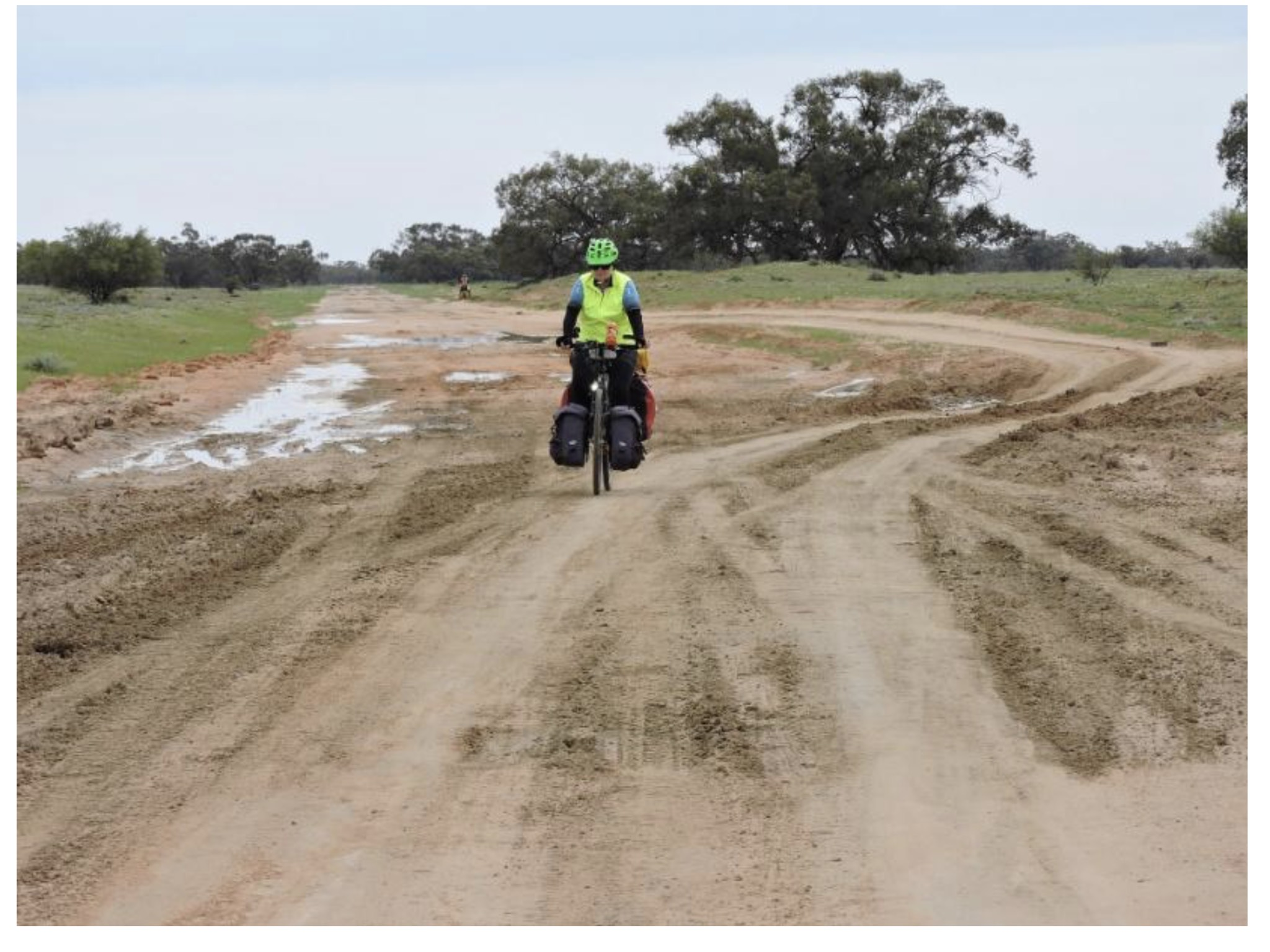 Thursday brought a head wind for the remaining 60 km to Wentworth and our campsite at the Willow Bend Caravan Park on the banks of the Darling River. After a nice lunch at the bakery, we cycled to the nearby Junction Park to see the confluence of the Darling and Murray Rivers from the viewing tower. Willow Bend's unique location, on the confluence of the two rivers makes it a fitting end to our 'Le Tour de Darling' and we held our farewell dinner at the Crown Hotel.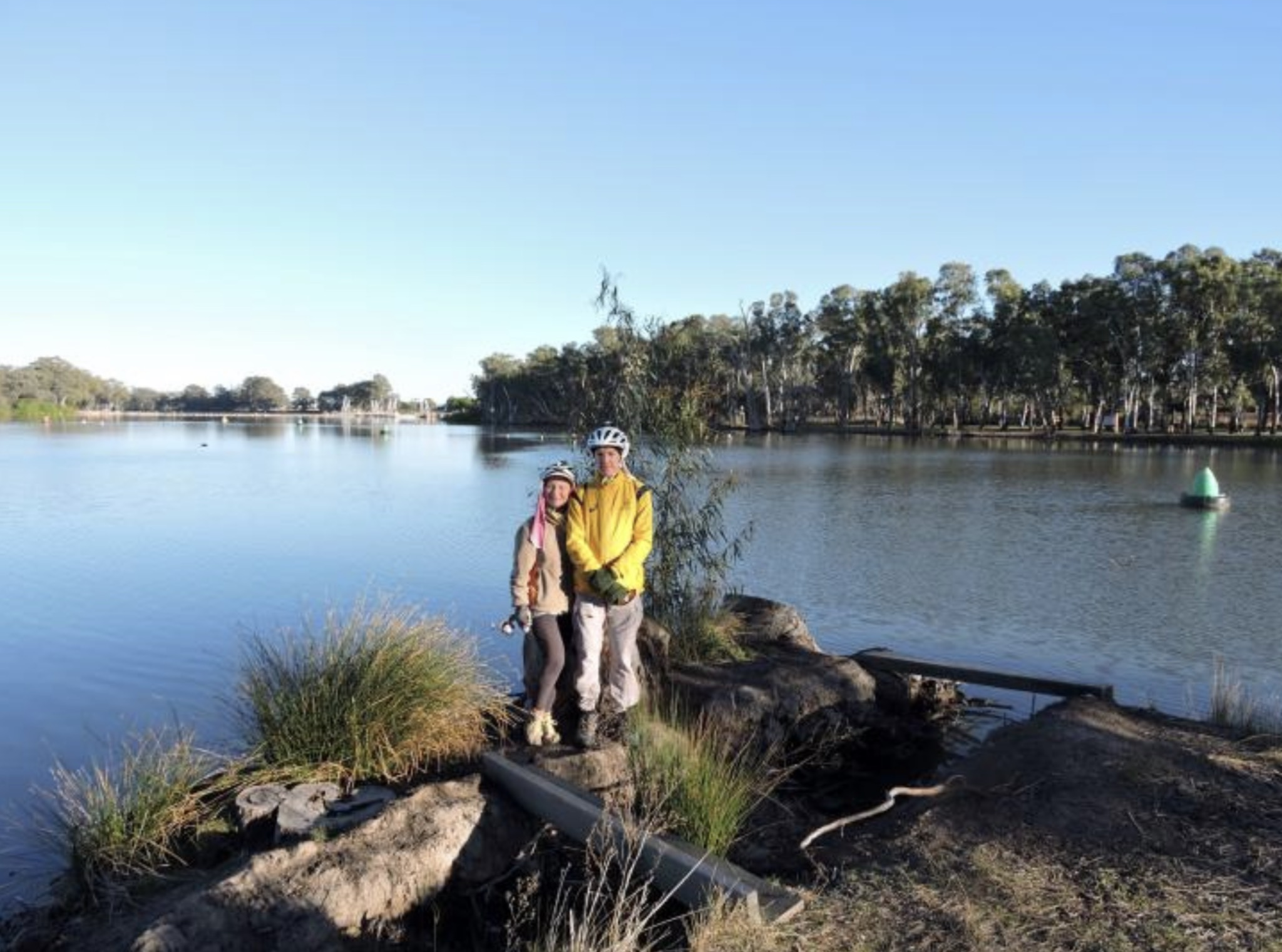 On Friday Peter, Suzanne and I headed off for Mildura, with Jenni and Stan staying an extra day at Wentworth. We cycled 41km, via the River Road cycle track to Mildura for our transport home.

Stats: no-one injured, nil punctures, terrain flat, duration 22 days, total km cycled Hebel to Mildura 1,125 comprising 786 km dirt and 339 km bitumen roads.
Other stats: two tiny 3-corner jacks (too early in the season to cause tyre punctions), many flowers and weeds, animals and birds – emus, echidnas, shingleback lizards, kangaroos, wallabies, pelicans, ducks, wrens, parrots, cockatoos, kites, eagles, cows, sheep, goats, alpacas, spiders, ants, fish and lots of road kill.